Time to do my annual look back, and let the record show I did technically start this before February (in case I don't actually finish it tonight).  2016 came and went even faster than 2015, and in a popular culture sense, that was fine, as it was a real crappy year.
Personally though, Avery kept getting bigger and funnier and crazier.  It's been the blessing of my life to watch her grow, and in case you missed my announcement, we're gonna start this all over again.  I don't have the same monthly photos like I did last year, but here are some "Avery growing up" pictures from throughout the year:
January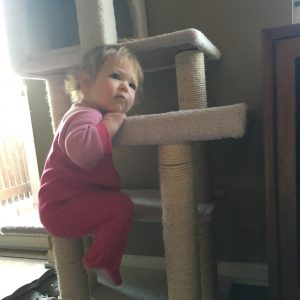 April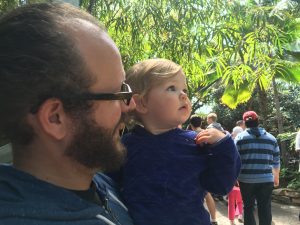 May (18 months)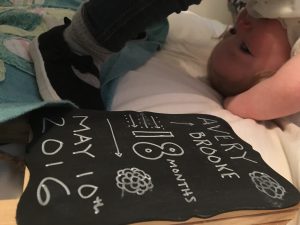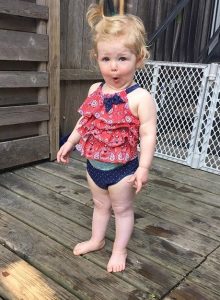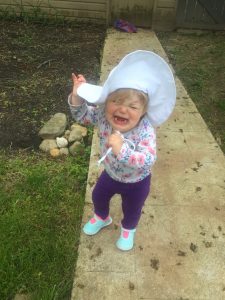 July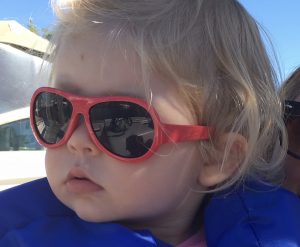 August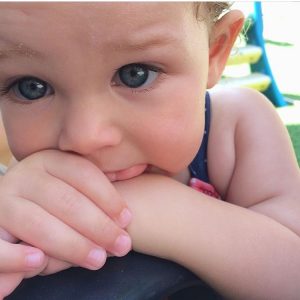 September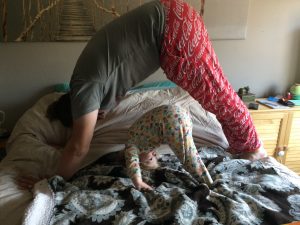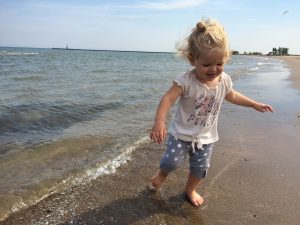 October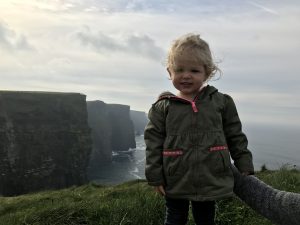 November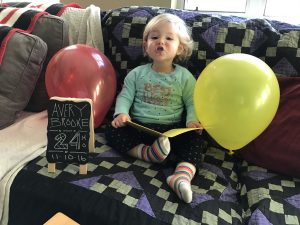 and now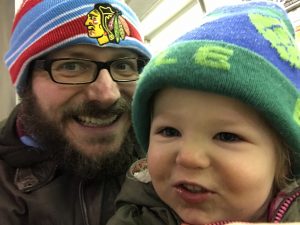 She is the coolest little kid, and I had no idea I had the capacity to love something this much.  Unsurprisingly, she will likely be a highlight of all years in review to come.  I do plan on continuing to make my Daddy Diaries videos as well, so you can look forward to more of those in 2017.
So obviously the discovery of having another kid is a big highlight from the year, but another big highlight from last year was successfully running a Kickstarter Campaign to create a solo album (which I'm calling Foster).  Looking back at my 2015 in review, it's funny, as I said "I have some big plans for 2016 as far as music goes, both with the band In Threes that I've been playing with, but also beyond that."  The "beyond that" that I was referring to was this solo project, which I'm now in the midst of writing and recording.
Related to that, but on a sadder note, I lost a band for a second consecutive year, this time In Threes.  Like with Common Shiner the year before, it was very amicable (as our leader Jordan up and moved to Austin), but I was sad to see it go.  Our strange anthemic rock songs will live in your hearts forever, whether you like it or not.
On one other sad note, it didn't happen in 2016 technically, but I did lose my grandfather right at the start of 2017.  You can read my remembrance of him here.  He will be very missed, but I'm so glad that Avery got to meet him and spend so much time with him.  She referred to him as "Bompy Cheese Ball," as he fed her cheese balls every time we visited, and he called her "hot shot" when he first met her.
We all miss him already.
So for 2017, I really have just two goals:
Have another baby (well, stand nearby while Corinne has another baby)
Finish writing, recording, and release my solo album – Foster.
Anything else that happens this year is just gravy.
But before moving on just yet, a look back at my other favorite things from 2016.  Here's my previous years:
2015, 2014, 2013, 2012, 2011, 2010, 2009, 2008, 2007, 2006, 2005
Starting with albums….
Top 5 Albums
1) Jack Garratt – Phase
This was a year where I didn't really have a slam dunk #1 album, and all year I was thinking "that Jack Garratt album is so good, it's probably in my top 5" and when listening through it again, it just suddenly became obvious that it was the best album last year (for me).  Front to back, this album is just great, and seeing him live is another experience entirely.  Just google for a couple clips of him live and you'll see what I mean.
2) The 1975 –  I like it when you sleep, for you are so beautiful yet so unaware of it
The title of this album is BEGGING me to hate it, and I just can't.  Each track is like a different closing credits song to an 80s romantic comedy.  And if it's not clear, I mean that as a huge compliment.  The Sound is clearly the song to make it on our annual mix (featured below), but Somebody Else might actually be my favorite song on the album.  And even the instrumental tracks on the album are solid.  I can't help myself, I just love this album despite the incredibly dumb title.
3) Paper Route – Real Emotion
The creators of my #1 album from 2009 are back in my top 5 again!  We got to see them live at Beat Kitchen (a venue far too small for them) in November, and that pretty much sealed the deal that they'd make the top 5.  I have a feeling at some point here, I'm going to brag about how I saw them at Beat Kitchen, now that they're playing far larger venues.  They have such passion in their live show, and it's contagious to watch a band that really cares about what they're playing.  The title of the album really fits in this case.
4) Leonard Cohen – You Want it Darker
This one was a surprise for me, and I think the passing of Leonard Cohen made me suddenly realize how incredible of an artist he was.  I mean, I've always thought he was a brilliant songwriter, and I got this album before he passed away, but all of the sudden I listened to it in a different way and like an M. Night Shyamalan twist had the thought "holy shit, he was brilliant the whole time!"  It's also crazy to me how some of the lyrics on this album totally show that he knew he was dying soon: "I'm ready my Lord." "I'm leaving the table, I'm out of the game."  It's both chilling and beautiful, which I suppose sums up his songwriting entirely.
5) The Naked and Famous – Simple Forms
Another band making my top 5 for a second time (their album Passive Me, Aggressive You was my #5 album in 2011 as well). As usual, there were a bunch of albums that could have gone in this slot, but this album was definitely Avery's favorite of the year, as she requested the song Higher ALL the time.  And I suppose if I give 4 of the first 5 songs on the album 5 stars in my library, it probably means it was one of my favorite albums too.
Honorable Mentions – Frightened Rabbit – Painting of a Panic Attack, Bastille – Wild World, Kishi Bashi – Sonderlust, St. Lucia – Matter, Ra Ra Riot – Need Your Light, Tegan & Sara – Love You to Death, blink-182 – California, Niki & the Dove – Everybody's Heart Is Broken Now, Bon Iver – 22, A Million, AURORA – All My Demons Greeting Me As A Friend, Bear Hands – You'll Pay for This, Savoir Adore – The Love that Remains, LP – Death Valley, Gordi – Clever Disguise, Ry X – Dawn, The Dear Hunter – Act V: Hymns with the Devil in Confessional
Didn't Have Time to Give Them a Fair Shake – Two Door Cinema Club – Gameshow, PUP – The Dream is Over, Perturbator – The Uncanny Valley
Theme Song of the Year
Well Avery's clear theme song was:
     Higher – The Naked and Famous
but luckily I was able to get her to have spontaneous dance parties to:
     Always – Great Good Fine Ok
But my personal theme song this year was definitely:
    Wait for It – Hamilton Soundtrack
which I listened to on a virtual loop during the summer.
Top Albums I Should Have Been Into Earlier
1) The Dear Hunter – Acts I – IV
I've loved this band for a while ever since discovering their series of EPs called The Color Spectrum.  So like I do with bands I enjoy, this past summer I had the thought "I wonder if Dear Hunter has a new one coming out" and imagine my surprise when I saw that their new album coming out started with "Act V…"  "5?!" I thought, and lo and behold there was indeed an Act I through IV!  How I missed this, I have no idea, and I spent a lot of time listening through these crazy epic albums.  In a weird way, these albums remind me of Brian Wilson Smile, in that they are bold, crazy, intricate, and all over the map.
2) Amaranthe – Amaranthe
My friend Vijay pointed these guys out to me, and they have a new album that came out not too long ago called Maximilism.  That should be the name of every album they make really.  They are over the top in all of the best ways, and actually Avery loves them too (as they are one of the only bands that she consistently claps for when we play them in the car).
Special Albums I'd Like to Call Attention to but Don't Fit in a Category
1) Great Good Fine Ok – III
This album technically came out this year (very early 2017), but it's comprised of a bunch of singles they released over the last year (two of which made our mix below), and had this come out as an album in 2017 it would have been my #1 album hands down.  I guess they're playing to the times by releasing singles every couple months, and completely turning their nose at my whole "top 5 albums" thing, but they're easily one of my favorite bands right now, and it's hard to give them their credit on my lists when they just release singles every couple months.  That said, just listen to everything they make, as they are the most poppy wonderfulness ever.
2)  Hamilton Soundtrack
I believe this technically came out in 2015, but obviously caught fire in 2016.  I picked up the soundtrack in the early spring, thinking that I should give it a listen, and it is absolutely incredible.  It was probably Corinne's favorite album of last year, but since I have my rules (this isn't 'nam, Smoky), I can't list it in my top 5, as it technically came out the year before.  I've never wanted to see something so bad based on the soundtrack before.  Maybe one of these days I'll have a million dollars and I can finally afford to see it.
Most Disappointing Album of the Year
I didn't have any obvious winners for this, and I should probably change the name of this award to be the "Morgan had too high of expectations" as that's usually what it comes down to.  So this year, I'll give it to…
Junk – M83
as I was crazy excited about a new M83 album, and had too high of expectations.
The Fleet Foxes Award
I also didn't have an obvious winner for this one either, so I guess I'll just say Car Seat Headrest, since everyone seemed to think they were amazing and I thought they were just ok.
The 2016 Morgan, Corinne, & Avery Mix
If you'd like me to burn you a copy, just let me know!
Built this Pool – blink-182
Death Dream – Frightened Rabbit
The Sound – The 1975
Pretend – Paper Route
Faint of Heart – Tegan & Sara
Savages – Savoir Adore
2AM – Bear Hands
Muddy Waters – LP
Higher – The Naked and Famous
Somebody Else – The 1975
Bored to Death – blink-182
715 – CR??KS – Bon Iver
Wait for It – Hamilton Soundtrack
Always – Great Good Fine Ok
You Want it Darker – Leonard Cohen
The Revival – The Dear Hunter
Dancing on Glass – St. Lucia
Leave Everything Behind – Amaranthe
Everything to Me – Great Good Fine Ok
Surprise Yourself – Jack Garratt
Favorite Movie
Embarrassingly, when the Oscar nominations came out, I realized I had literally not seen a single best picture nominee.  I'm hoping to remedy that soon, but of all the movies I saw, I'd say the one that stuck out the most to me was probably…..
     Star Wars: Rogue One
which was as much fun as I've ever had watching a Star Wars movie.
Worst Movie of the Year
As usual, I actually have more options for this category than the Favorite Movie category, because I watch so many terrible movies (thanks How Did This Get Made).  I could probably say Batman vs. Superman or Independence Day: Resurgence for movies I actually saw unrelated to the podcast, but I'd like to point out the most bonkers crazy movie I watched this year was:
     The Apple
so that I can also recommend that you all watch Electric Boogaloo: The Wild, Untold Story of Cannon Films on Netflix, as it's the documentary about the crazy ass filmmakers that made The Apple.  Thanks to this, I discovered that I really love hearing stories about movies getting made (preferably crazy or terrible movies).
I guess that sums up 2016.  Hopefully the surrounding world will be a little less shitty in 2017, but if my personal life continued to be the same as it is, that'd be just fine.