Man, feels like just yesterday I was writing up my 2018 in review, and yet 2019 was a pretty packed year. It was a full year in Michigan, and I do feel like I'm in such a better place right now than I was a year ago, when I wrote about the depression I was going through. 2018 was a very up and down year, and while 2019 has certainly still had its struggles in my life personally, I do feel like I've made some very healthy changes and additions to my life. I've been seeing a therapist for well over a year now, we joined the Y and I've been working out a lot (slowly but surely lost about 20 pounds over the last year).
But don't worry, that same old neurotic Morgan is still here. 🙂 I wrote in a song a long time ago "I'm bound to discontent in all that I pursue" and that certainly feels like the case a lot of time. I have a really hard time relaxing and feeling content, and my therapist could tell you that while I have some better tools at my disposal these days, that instinct is pretty ingrained in my psyche.
It's funny that this has made for such a good example, but in the song Some Things Never Change from Frozen II, Olaf sings the line "and my leaf's a little sadder and wiser," referring to maturing and the passage of time. This past year I've really felt both of those things, that getting older makes you both sadder and wiser. I don't think that's necessarily a bad thing, but an interesting bittersweet reality. As I approach my 40th birthday this coming year, I've had many moments where I've really felt my age (I'll probably blog more about that as the inevitable milestone gets closer), but I'm also in better shape than I've probably been in a while, and I feel like I'm a better musician than I've ever been too. So I've still got a few more good years left here, put me in coach!
Anyway, I've waxed philosophical enough. All that aside, 2019 had some pretty amazing moments, such as:
Hawaii trip with Corinne (oh and my company Agathon).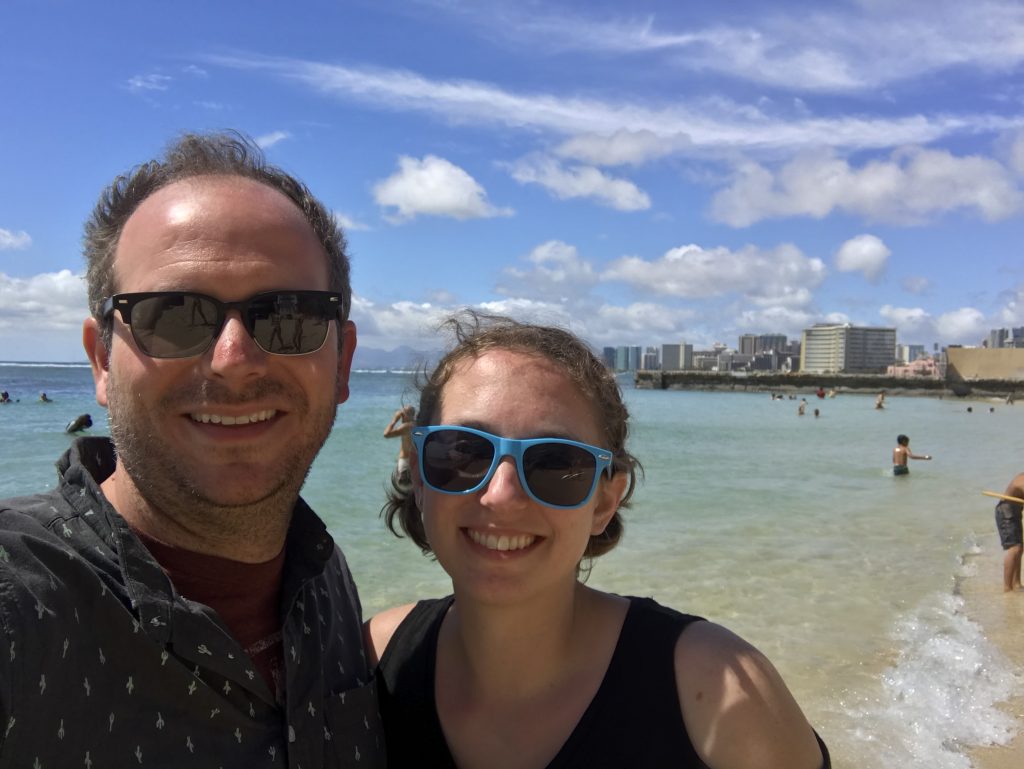 Taking Margot and Avery to Paris along with our favorite traveling companions Coco and Jojo.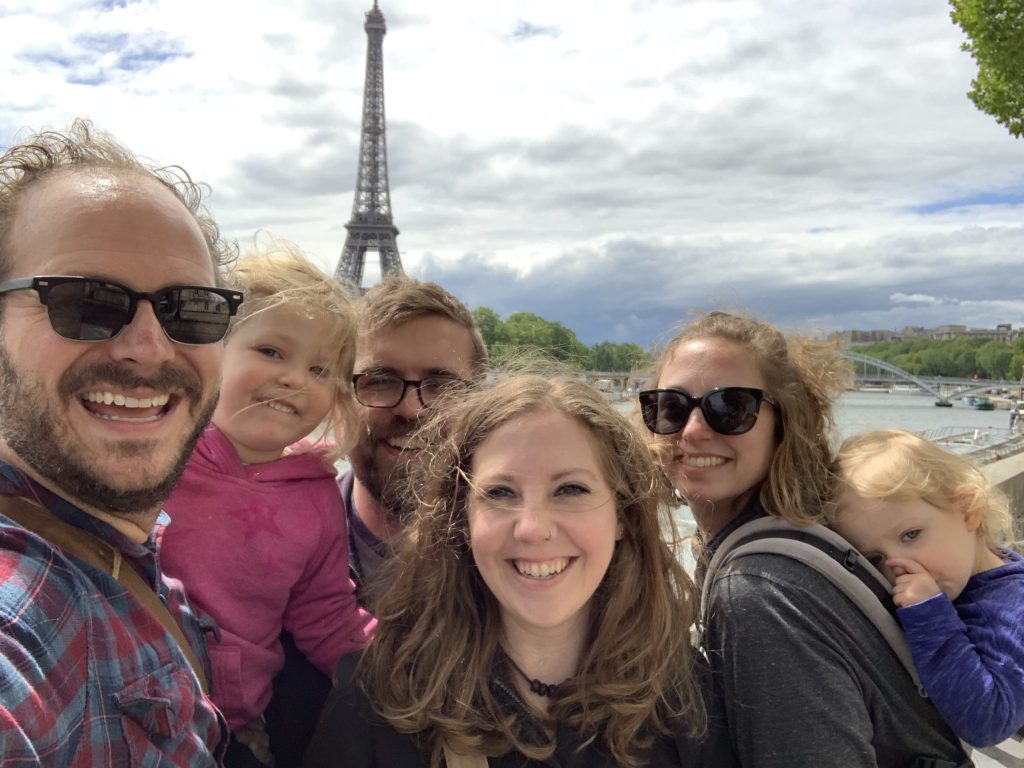 Despite crappy weather, pulled off a live band on Halloween during trick or treating with my neighbor and another friend. We're called Garbage Angel, and we are definitely going to be making another appearance Halloween 2020.
Went on my first winter retreat with the beer group I've been a part of which was delightful, and as of this writing, I'm just a few weeks away from retreat #2 with the same crew.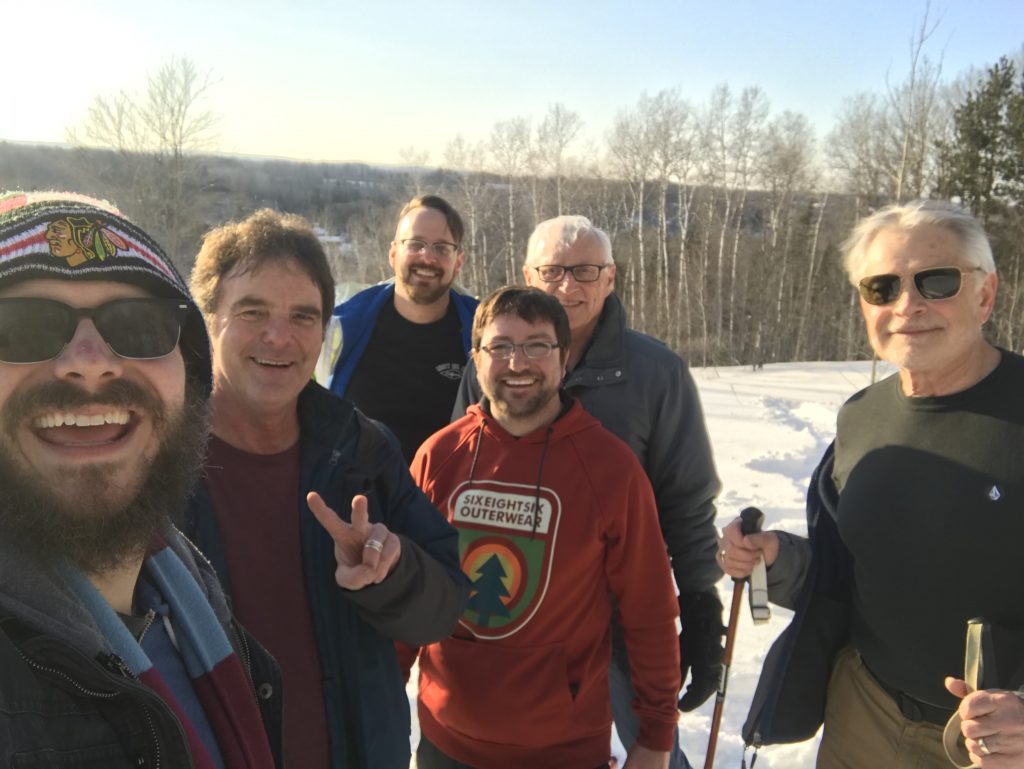 Made and released another music video with my good friend Zoran over at lowcarbcomedy.com. As of this writing, the new video has 9.6 million views, and the original video has 57+ million. With how disconnected I often feel these days with my own music, it's amazing sometimes to think that that many people have watched a video I helped create set to a song that I wrote. It's kind of mind blowing. Now we just need to plan out one more to finish the trilogy.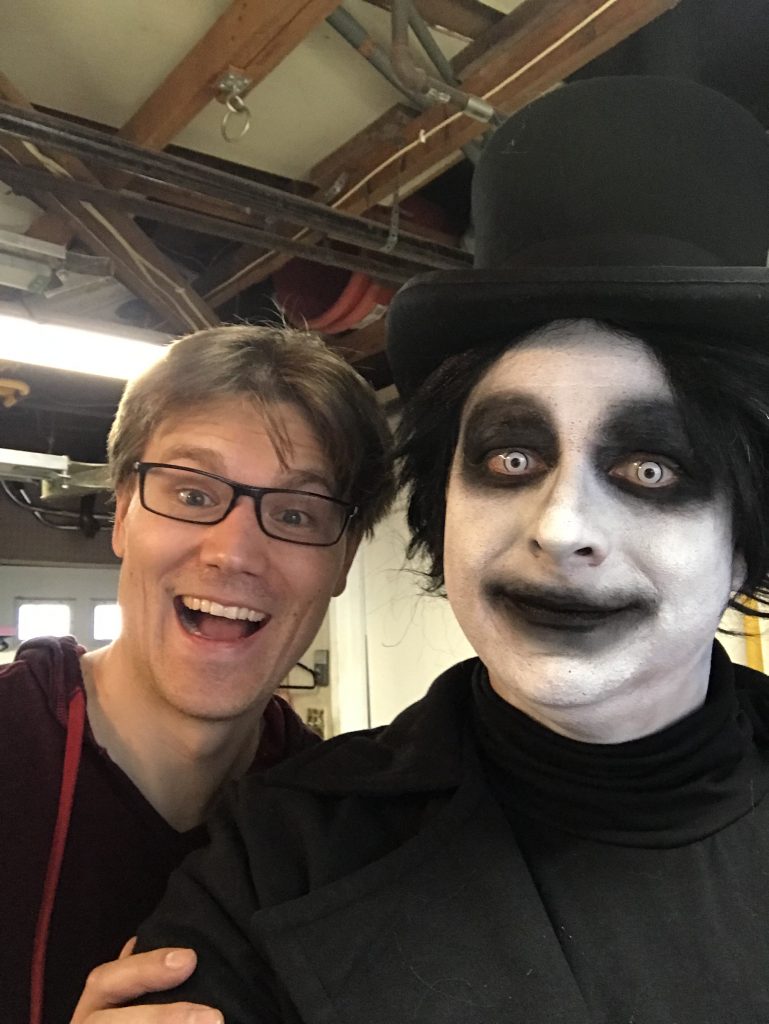 And probably the highlight of the whole year was watching Avery eclipse my entire theatre career by being cast in the Broadway touring production of Waitress. I still kind of can't believe it happened, and my heart just bursts with so many feelings thinking about it that I don't know what to do. I also burst into tears most times when hearing songs from the soundtrack (more on that later), as it instantly makes me think of how unbelievably proud I am of her. You can watch the Daddy Diaries I made around the time to get a little more behind the scenes footage and such. 🙂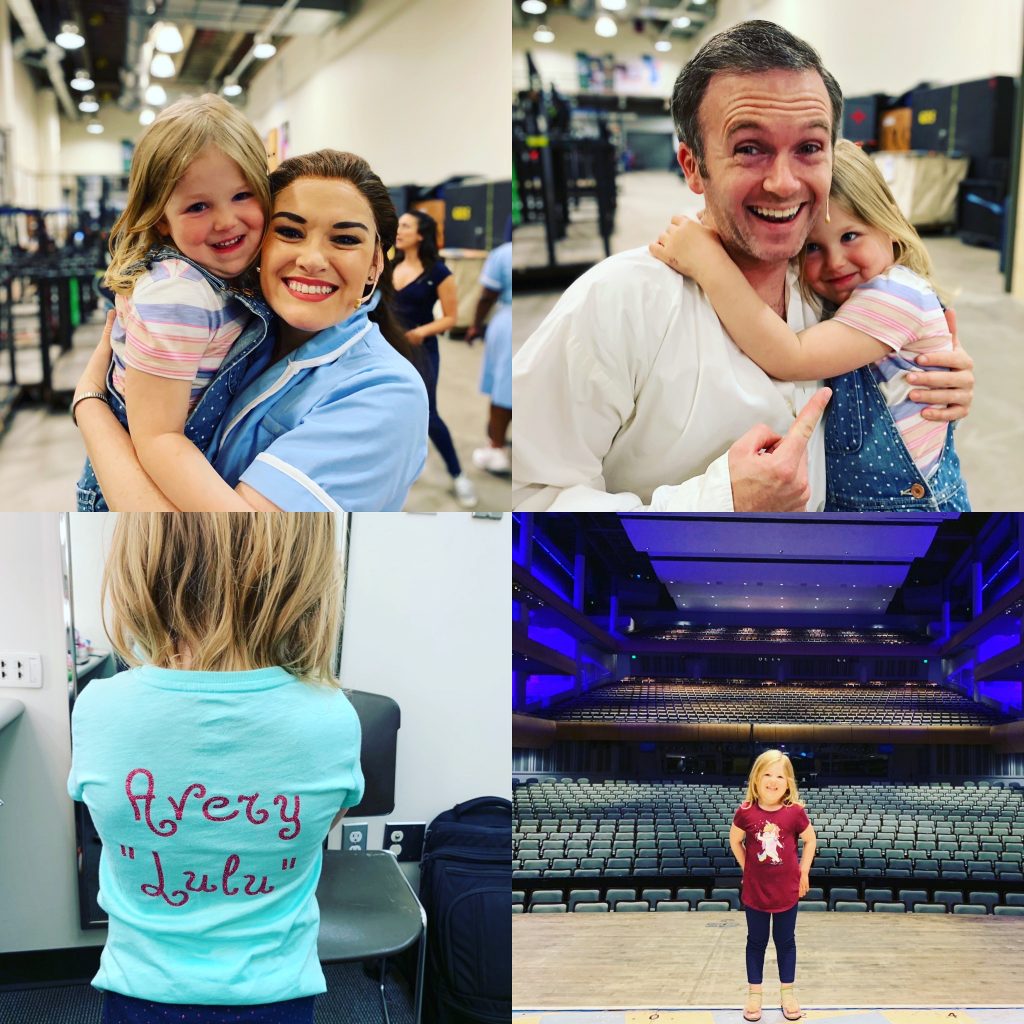 Overall a pretty great year, let's hope despite all of the political nonsense that's going to go on this year that 2020 can top it!
Not as much travel planned for this year, but here are some goals I have for 2020:
Managed to do the Halloween Live Band thing, which was fun, but having a couple more Grand Rapids and neighborhood events that I can plan or be a part of would be great.
I'm planning on auditioning for a couple shows this year, so making my return to the stage would be really fun, but also a whole new challenge to figure out what my current life looks like with Theatre thrown back into the mix.
Getting some sort of regular music thing going that is not weddings. Does have to be 100% originals, but just something that is more "my thing".
In that vain, I'd really like to write some new songs this year too. It's been a little while since the Life Neurotica release, and I'm itching to create again.
And the most important of all, continue to create new memories and experiences with my amazing wife and daughters.
But first! One last look back at 2019. I also plan on doing a decade review like I did a decade ago here soon too, so keep an eye out for that. My habits over the years have changed enough that I probably need to update my categories a little bit. I definitely don't consume current music nor movies in the same way that I used to, but it's still fun to reflect on my favorite things from the year, though often those favorites are actually things that came out in previous years.
This is year #15 of doing this, so here's all the previous years:
2018, 2017, 2016, 2015, 2014, 2013, 2012, 2011, 2010, 2009, 2008, 2007, 2006, 2005
We'll start with music, as per usual, although as I get older, it's more and more rare to have a true album that blows me away anymore. But I don't want to just settle into being a grumpy old man that believes the only good music is the stuff I listened to when I was a teenager, and all new music is garbage, because that's annoying, so I still want to listen to albums and list my favorites anyway.
Man I'm getting rambly in this post, anyway, on to the picks!
Top 5 Albums
1) Flight of the Conchords – Live in London
About halfway through the year, one of my coworkers asked if I'd seen the new Flight of the Conchords, and I was like "What?!" Watching this concert and listening to it was like sliding into a hot tub. Delightful, comfortable, and brings back all kinds of memories. …… where am I going with this analogy?
Anyway, this whole concert is hilarious and wonderful, and really their songwriting is as good and interesting as ever, while being immensely entertaining. This album made me all kinds of happy this year, and because of that, I'm giving it the #1 slot. So good to have these boys back in my life.
2) Savoire Adore – Full Bloom
I had Savoire Adore as an honorable mention on my 2016 review, and I'm a total sucker for their laid back electronic poppy sound (sort of like a poppier Sylvan Esso). This album definitely took that to fruition, and When the Summer Ends became Avery's theme song for the year when she overheard me listening to it. I have no doubt when the weather warms up these tunes will make an appearance in the car again.
3) Various Artists – Tiny Changes: A Celebration of Frightened Rabbit's 'The Midnight Organ Fight'
For those not familiar, this is the album that was in the works before Scott Hutchinson of Frightened Rabbit died, and then took on a tremendous amount more meaning after. There are some really great covers on here (Biffy Clyro's The Modern Leper and Daughter's Poke to name a couple) although the whole album is not mindblowing. But similar to Flight of the Conchords making a reappearance in my life, this album gave a resurgence of Frightened Rabbit back into my life, and although it still fills me with so much sadness to no longer have Scott with us, going through all these songs again was tremendously meaningful. And it's all for a great charity that was started in Scott's memory – https://tinychanges.com/.
4) Vampire Weekend – Father of the Bride
I'm sure a lot of critics and such have commented much more extensively about this album, but really it came down to that it's sometimes just really nice to have an album that just sounds fun and easy. I know Vampire Weekend is much more complicated than they initially sound, but this whole album is just delightful, and this year it was really nice to just listen to an easy fun album like this one. I really don't have much deeper thoughts than that.
5) Jade Bird – Jade Bird
Calin mentioned this album to me, and throughout the year it grew on me more and more. She's kind of like a Janis Joplin-y version of Adele, and despite being so young, she's a really solid songwriter with a lot of great hooks, a ton of emotion, and a really nice classic rock-y overtone in general (which is not necessarily something I'm into, but it works so well). Super solid, and I imagine there's a long future career in front of her.
Honorable Mentions – Bad Religion – Age of Unreason, GUNSHIP – Dark All Day, Tegan and Sara – Hey, I'm Just Like You, Bon Iver – i,i, Mika – My Name Is Michael Holbrook, Betty Who – Betty, grandson – Modern Tragedy Vol 1-3, Phoebe Bridges – Stranger in the Alps, Big Wild – Superdream, Many Rooms – There is a Presence Here, Glen Hansard – This Wild Willing
Didn't Have Time to Give Them a Fair Shake – Jimmy Eat World – Surviving, Leonard Cohen – Thanks for the Dance, The National – I Am Easy to Find, Ry X – Unfurl
Theme Song of the Year
Me: Unlike previous years, I didn't have a super obvious one, but I'm gonna say strangely it was between – The Modern Leper – Biffy Clyro and Bad Idea – Waitress (Original Broadway Cast Recording) – more on that in a sec
Corinne: Truth Hurts / Good as Hell Medley – Lizzo (https://youtu.be/Uo0RK_olDb4)
Avery: When the Summer Ends – Savoire Adore (Avery goes through a theme song a month, but this one lasted the longest I think)
Margot: "I want Lost in the Woods and Never Change" was her mantra for a while there, so I guess those two tunes from Frozen II would be hers.
Top Albums I Should Have Been Into Earlier
Jeremy Messersmith – Late Stage Capitalism
ONE OK Rock – Ambitions
Nothing More – The Stories We Tell Ourselves
Special Shout Out
I need to give a special shout out to Sara Bareilles for Waitress (Original Broadway Cast Recording). It didn't come out last year, and while I knew it existed, Avery being cast as Lulu in the Broadway tour obviously made me much more acquainted with the music in general, and it will forever have a VERY big emotional spot in my heart. Hence the reason you'll see a couple tracks from it on our mix this year, since it's one of the biggest events that happened in our family in 2019.
The 2019 MCAM Mix (Morgan, Corinne, Avery, Margot)

Couple interesting notes:
This is the first mix in 5 years to not feature a Great Good Fine Ok song
I believe The Modern Leper is the first song to show up in two different yearly mixes that I've put together (first appeared in my 2008 mix)
1: The Modern Leper – Biffy Clyro
Really fun Frightened Rabbit cover by Biffy Clyro that still honors the original while giving it a new spin. This also sparked my general interest in Biffy Clyro, that Jake had introduced me to years ago, but for some reason I'd never really listened to. Hence another track by them below.
2: Get Up and Fight – Muse
This album somehow slipped by me in 2018, and this song is just such a good fist pumping type tune. Love it.
3: Heartline – Craig David
Well in lieu of there being no Great Good Fine Ok on this year's mix, this Craig David is the next best thing. This might have been my most listened to track throughout the year, despite it being almost borderline R&B corny.
4: She's Kerosene – The Interrupters
I didn't realize that I wanted to be transported back to the 90s ska part of my life, but listening to The Interrupters brought me so much joy. I'm gonna go skank.
5: When the Summer Ends – Savoire Adore
Mine (and Avery's) favorite tune off the Savoire Adore album, and it's just pure easy electro poppy perfection.
6: Fall Apart – Maps & Atlases
Another album that slipped by me when it came out, but I just love what Maps & Atlases does in general, and this song in particular really checks all the boxes. Just complicated enough to be unique, but so full of hooks.
7: Mountains – Biffy Clyro
Another one of Avery's favorites from the year. After hearing their The Modern Leper cover, I thought "you know, I should listen to them more probably" so I grabbed Only Revolutions, and this the tune that Avery (and I) really loved. Avery requesting this all the time made me a very proud parent.
8: Language – Betty Who
Another Avery (and me) favorite. When I first heard this I was like "this could be a Great Good Fine Ok song…… wait, this is a Great Good Fine Ok song!" The song samples the electro hook from the GGFO song Always (which appeared on the 2016 mix), but gives it a totally different feel, and is just catchy and dancy as hell. Betty Who has some phenomenal hooks all over her album, although some of it feels a little too much like it was made in a lab for the album to crack my top 5. But this song is just delicious.
9: Funny Little Creatures – Nothing More
Jake had these guys on his mix a couple years ago, and I was like "oh I should look into them" and then completely forgot to do so. Then early summer this past year I listened to them and ONE OK ROCK, and didn't realize just how much I wanted some heavy rock back in my life. These guys scratch that itch so well, especially this tune.
10: Jim Bakker – Jeremy Messersmith
I can't remember who turned me on to Jeremy Messersmith, but his album Late Stage Capitalism is wonderful, and this super clever catchy song was my favorite for sure. "Oh Lord, it's me again, your poor hard working televangelist."
11: Father and Son – Flight of the Conchords
Perfect Flight of the Conchords song. Don't know what else to say.
12: Ready to Call This Love (feat. Jack Savoretti) – Mika
I guess here starts the "Musical Theatre" part of the mix. This song is not from a Broadway show, but it probably should be. If a Broadway show based on Mika songs came out, that would be amazing.
13: Bad Idea – Waitress (Original Broadway Cast Recording)
First of two Waitress tunes on the mix. This is my favorite song from the show. It's got so much Sara Bareilles catchiness. Good stuff.
14: 17 – Jade Bird
Love this song, though I always think "you keep saying 17, how old are you, like 20?"
15: When You Grow Up, Your Heart Dies – GUNSHIP
I am such a sucker for "80s sci fi soundtrack" sounding bands, and GUNSHIP might be the most that band out there. This song is so delightfully leaning into that, and while their album didn't blow me away as far as individual tracks go, I still love it.
16: Harmony Hall – Vampire Weekend
"I don't wanna live like this, but I don't wanna die." As a songwriter, that line is just gold. Gold, Jerry!
17: Hey, Ma – Bon Iver
With his eye rolling album and song titles as of late, Bon Iver is just begging me not to like him anymore, but I can't deny that I am just a sucker for everything he puts out.
18: Taking Off – ONE OK ROCK
These guys definitely fall in the "young" power pop sort of sound, and I think they're still developing, but they pretty perfectly scratch that Motion City Soundtrack / early Fall Out Boy itch that I'll probably always have.
19: Blame – Bear Hands
This album by Bear Hands wasn't as good as either of their previous efforts, but I still love them, and this tune accompanied me on late nights all throughout the summer.
20: Into the Unknown – Frozen II Original Soundtrack
Given that we have two young daughters, Frozen II was obviously a very big deal when it came out. Really I could have put the entire soundtrack on here if Margot and Avery had their way, but this was certainly the best song on the soundtrack (in my opinion). Also, the movie is genuinely pretty great.
21: Opening Up (Finale) – Waitress (Original Broadway Cast Recording)
This is the song that played while Avery took the stage as Lulu, and this track will forever put that in my brain. I'm so grateful to have such a special memory.
Favorite Movie
So something I'm going to start this year (2020), is actually keeping track of my favorite movies, but since I have no prayer of keeping up with the actual current/award season movies, instead, I'm just going to list my favorite (new to me) movies that I saw in a given year. In no particular order, here's a top five from this past year:
Avengers: Endgame
On the Waterfront
Spartacus
Frozen II
The Rider
Those are all just off the top of my head, but like I said, next year, I'ma make a for real "Top 5 new to me Movies".
Worst Movie of the Year
As usual, I watched many many terrible movies mostly thanks to How Did This Get Made. Tops for 2019 was almost certainly:
Fateful Findings
This is a The Room level movie, in that it was entirely bankrolled by one person who has no business making movies. It is jaw droppingly bonkers. A very close runner up is The Hottie and the Nottie which is just beyond disgusting and awful.
==================================
Overall a pretty solid year. Some ups and downs, but some pretty monumental things that I will look back fondly on. Now on to hopefully bigger and better things for 2020 now that I've reminisced about 2019.
Cheers!